Finanse publiczne Rumunii w trakcie i po kryzysie gospodarczym 2008-2009
Stelian Dan CÂMPEAN

Państwowa Wyższa Szkoła Zawodowa im. Stanisława Staszica w Pile
Abstrakt
Celem niniejszego artykułu jest zaprezentowanie problemów gospodarki Rumunii podczas kryzysu ekonomicznego 2008-2009. Na wstępie przedstawiono definicje związane z finansami publicznymi i kryzysem gospodarczym oraz krótki opis sytuacji ekonomicznej Rumunii. Następnie przeprowadzona jest głębsza analiza przyczyn i objawów recesji w kraju, a także perspektyw dalszego rozwoju. Sytuację finansową Rumunii, jej Produkt Krajowy Brutto i aktywność gospodarczą ukazano w szerszym europejskim kontekście. Praca stanowi przegląd materiałów źródłowych Narodowego Banku Rumunii i innych instytucji, a także wybranej literatury przedmiotu i własnych opinii autora.     
Bibliografia
Banca Naţională a Romaniei (National Bank of Romania) (2010) Standardul special de diseminare a datelor (SDDS) (Special Standard for Dissemination of Data (SSDD)), http://www.bnr.ro/Standardul-special-de-diseminare-a-datelor-(SDDS)-730.aspx (access date: 06.12.2014)
Barysch, K. (2009) "New Europe and the Economic Crisis", Briefing Note, Centre for European Reform, February 2009, http://www.cer.org.uk/pdf/bnote_new_europe_feb09.pdf (access date: 06.12.02014)
Donath, L.E. and L.M. Cismas (2009) "The Current Financial Crisis Revisited. Causes and Remedies", The Romanian Economic Journal, Year XII, no. 31, ASE Publishing House, Bucharest, pp. 85-98
Frankel, J.A. (2005) "Mundell-Fleming Lecture: Contractionary Currency Crashes in Developing Countries", IMF Staff Papers, Vol. 52, Number 2.
Isarescu, M. (2009a), "Nine Lessons from the Current Financial Crisis", speech delivered at the Conference "What lessons can be learned from the current economic crisis?", the Economics Law and Sociology Department (Romanian Academy), the "Costin C. Kiritescu" National Institute of Economic Research and the "ESEN Reflection Group" (Romanian National Committee), http://www.bis.org/review/r090508d.pdf (access date: 08.12.2014)
Isarescu, M. (2009b) "External deficit financing and macroeconomic adjustment during the financial crisis: the case of Romania", National Bank of Romania
Kittelman, K., Tirpak, M., Schweickert, R. and de Souza, L.V. (2006) "From transition crises to macroeconomic stability? Lessons from a crises early warning system for Eastern European and CIS Countries", Comparative Economic Studies, 48(3): 410-434
Mishkin, F. (2007) "Is Financial Globalization Beneficial?", Journal of Money, Credit and Banking, Blackwell Publishing, Vol. 39 (2-3), pp. 259-294
Romanian Academic Society Yearly Forecast (2009) "The Crisis as Opportunity", http://www.sar.org.ro/files/PWR 2009-summary-en.pdf (access date: 10.12.2014)
Van der Voet, E., Van Oers, L., Moll, S., Schutz, H., Bringezu, S., De Bruyn, S., Sevenster, M. & Warringa,G. (2005), "Policy Review on Decoupling: Development of indicators to assess decoupling ofeconomic development and environmental pressure in the EU-25 and AC-3 countries", http://ec.europa.eu/environment/natres/pdf/fin_rep_natres.pdf (access date: 08.12.2014)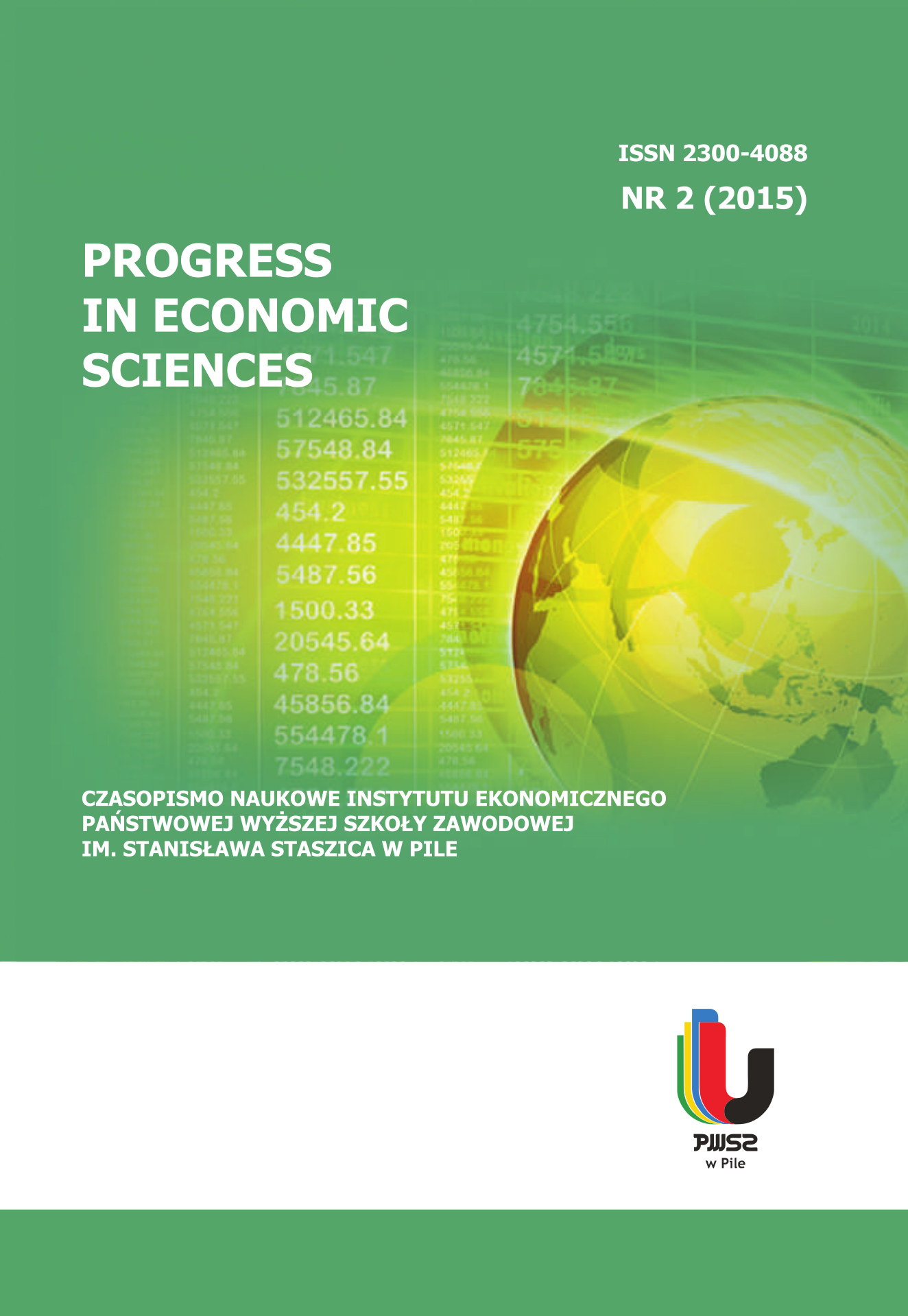 Artykuły w Progress in Economic Sciences w wersji drukowanej i internetowej publikowane są w oparciu o zasady Open Access na licencji CC - Creative Commons Uznanie autorstwa, autorzy mogą dowolnie dysponować tekstami w wersji opublikowanej w czasopiśmie.