Rozwój rynku węglowego i wydajności energetycznej w Republice Serbskiej
Dragica Stojanovic

John Naisbitt University, New Belgrade

Bojan Djordjevic

John Naisbitt University, New Belgrade
Abstrakt
Dostawa energii stanowi jedną z głównych kwestii zrównoważonego rozwoju w skali globalnej i wiąże się ze wzrostem wydajności energetycznej, modernizacją zakładów oraz wykorzystaniem odnawialnych źródeł energii. Praca ta zawiera porównanie kosztów elektryczności pozyskanej poprzez wykorzystanie aktualnych komercyjnych technologii oraz technologii, które będą dostępne w następnej dekadzie. Celem pracy jest wskazanie, że inwestycje w technologię niskoemisyjną to inwestycje przynoszące zyski a także, że zredukowana emisja CO2 w kraju prowadzi do jej redukcji na poziomie światowym. Praca kładzie szczególny nacisk na ceny emisji CO2 na rynku węglowym, co może zachęcać do realizacji projektów opartych na znacznym wykorzystaniu odnawialnych źródeł energii (RES) w Republice Serbskiej.
Bibliografia
BRATHWAITE J., HORST S., IACOBUCCI J. (2010), Maximizing efficiency in the transition to a coal-based economy, Energy Policy, 38 (10), 6084–6091, DOI: 10.1016/j.enpol.2010.05.064.

BUNSE K., VODICKA M., SCHÖNSLEBEN P., BRÜLHART M., & ERNST F. O. (2011),Integrating energy efficiency performance in production management gap analysis between industrial needs and scientific literature, Journal of Cleaner Production, 19 (6), 667–679, DOI: 10.1016/j.jclepro.2010.11.011.

CENTER FOR ECOLOGY AND SUSTAINABLE DEVELOPMENT (STEP), (2015), Climate change: Time to the Energy Community to take action, Retrieved from: www.cekor.org.

CHAI K., YEO C. (2012), Overcoming energy efficiency barriers through systems approach-a conceptual framework, Energy Policy, 46, 460–472. DOI: 10.1016/j.enpol.2012.04.012.

CHANGE PARTNERSHIP, (2015), Climate change: Time for the energy community to take action, CEE Bankwatch Network, Retieved fromhttp://bankwatch.org/publications/climate-change-time-energy-community-take-action.

DJORDJEVIC B., STOJANOVIC D., DJORDJEVIC M. (2015), Development potentials of CO2 emission markets in Republic of Serbia, International Scientific Conference 2015, Annual of the University of Mining and geology "St. Ivan Rilski", Vol. 58, Part IV, Humanitarian sciences and Economics, Republic of Bulgaria, 65–70.

ENERGY COMMUNITY (2014), Annual implementation report 2013/2014, Retrieved https://www.energy-community.org/pls/portal/docs/3356393.PDF..

REPUBLIC OF SERBIA, MINISTRY OF MINING AND ENERGY, (2016), Energy Sector Development Strategy of the Republic of Serbia for the period by 2025 with projections by 2030.

NIKOLIC J., VLATKOVIC M. (2015), Energy sector Serbia, 2015, Retrieved from: http://www.jpm.rs/wp-content/uploads /2016/01/Energy – Sector-Serbia.pdf.

JAFFE A. B., NEWELL G. R., SAVINS N. R. (2005), A tale of two market failures: Technology and environmental policy, Ecological Economics, 54, 164–174, Retrieved from http://seg.fsu.edu/Library/A%20tale%20of%20two%20market%20failures_%20
Technology%20and%20environmental%20policy.pdf.

OECD, (2011), Green Growth Studies: Energy, Preliminary version, Retrieved from http://www.oecd.org/greengrowth/greening-energy/49157219.pdf.

STOJANOVIC D., POPOVIC G. (2016), Carbon market: encouraging of investment in the energy projects in Serbia,International Scientific Conference 2016,Annual of the University of Mining and geology "St. Ivan Rilski", Vol. 59, Part IV, Humanitarian sciences and Economics, Republic of Bulgaria, 101–106.

UNEP FI (UNEP Finance Initiative), (2015), Lesson 8: An Introduction to the Flexible Mechanisms: Emissions Trading, Retrieved from http://www.unepfi.org/fileadmin/training/climate/Lesson_8.pdf.

TODIĆ D., GRBIĆ V. (2014), Zemlje u razvoju i politika u oblasti klimatskih promena, Biblid, Vol. LXVI, 1–2, 160–182, DOI: 10.2298/medjp1402160t.

ZIEGLER A., BUSCH T., HOFFMANN V. (2009), Corporate Responses to Climate Change and Financial Performance: The Impact of Climate Policy, Zurich: CER-ETH-Center of Economic Research,Working paper No. 09/105.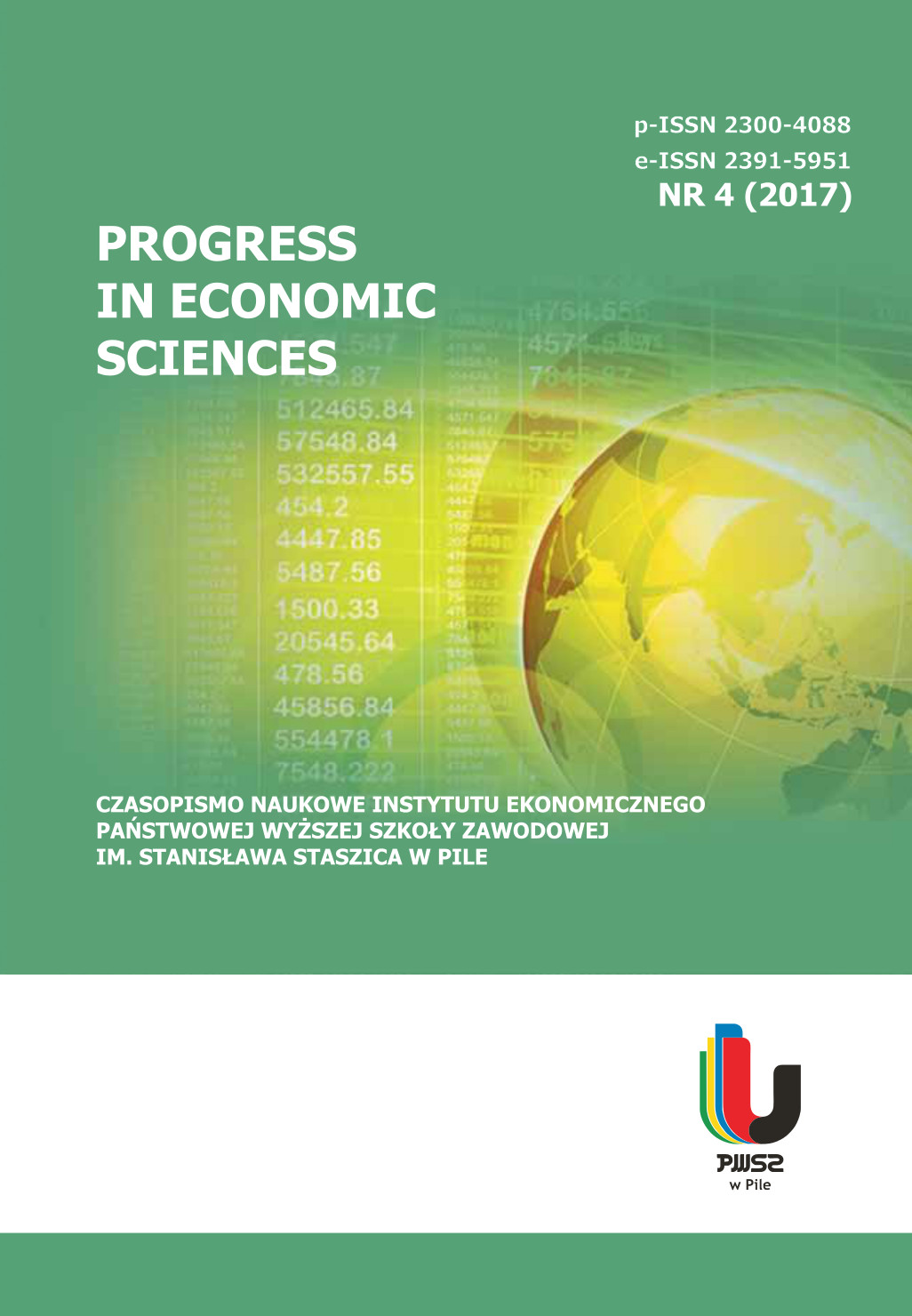 Artykuły w Progress in Economic Sciences w wersji drukowanej i internetowej publikowane są w oparciu o zasady Open Access na licencji CC - Creative Commons Uznanie autorstwa, autorzy mogą dowolnie dysponować tekstami w wersji opublikowanej w czasopiśmie.